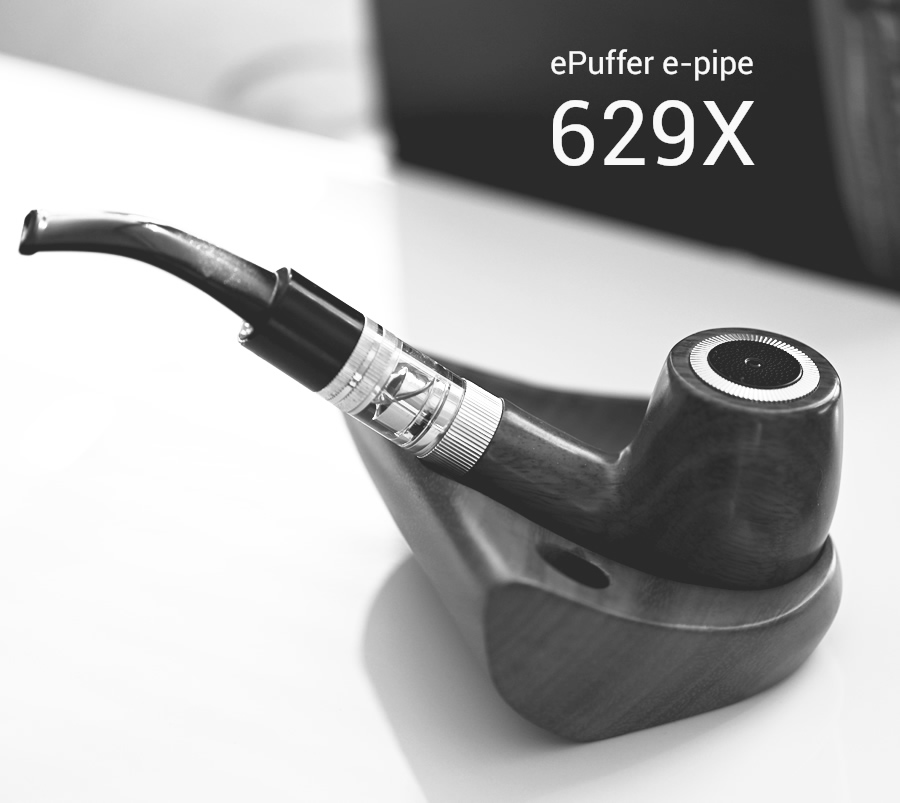 We're Making Your Favourite E-PIPE Even Better!
Traditional pipe smoking involves burning tobacco inside a pipe and "puffing" to draw out the smoke. People have smoked pipes for centuries, and that isn't likely to change anytime soon, even as information about the health risks of inhaling smoke become more and more abundant. However, there is a better alternative now: the e-pipe. You may not want to give up pipe smoking, and you don't have to; just change the format, and you'll be making a smart choice.
The ePuffer E-Pipe 629X offers everything you need to enjoy a full, authentic pipe-smoking experience without the smoke and smell. Instead of traditional smoke, you'll be puffing on a cool-mist vapour that has a pleasant smell and dissipates quickly. That means that you can use your e-pipe anytime you want, anywhere you happen to be – and you'll feel incredibly stylish doing it.
What's New With The E-Pipe 629X?
The E-Pipe 629X is our most popular electronic pipe model. As such, our customers have had a lot to say about what they like about it and what they would like to change. We listen to all customer feedback and make design choices based on what we think will please you the most. That's why we are about to roll out a new non-jewel flat cap for this model. The current model comes with a Zirconia crystal LED cap, and we offer the option to buy a black crystal cap separately. However, many of our customers have asked for another option, a non-jewel cap for their e-pipes, and we've delivered.
The new option is a non-jewel flat LED cap design in silver and gold that sports a sleek, modern look sure to suit a wide range of preferences. The sleek black disc atop the new cap sits over the pipe's bowl and blends marvellously with the black and wooden-look pipe for a cohesive, polished aesthetic.
Because of the worldwide COVID-19 situation, we've had to move back the release date for the new cap. However, we have completed the design phase and received our first prototype, and we are excited to be able to share it with you. We look forward to releasing it soon. When we do, it will be bundled with the E-Pipe 629X Starter Kit and also sold separately for existing e-pipe users.
The E-Pipe 629X Starter Kit
What currently comes with the E-Pipe 629X Starter Kit? All these goodies and more:
Two rechargeable lithium batteries
One pipe bowl
One each silver and gold liquamiser tanks with mouthpiece stems
One each silver and gold bowl caps
Five atomisers rolled in Japanese organic cotton
One universal fast battery charger
Beautiful mahogany-finish gift box
It's easy to see why this device is so popular, along with our e-cigs, e-cigar, and wide range of vape juice, e-juice, and e-liquid. If you're looking to buy a vape online, you've come to the right place. We hope that you'll like the new cap as much as we do. Or, check out one of our other vaping options whether you're just starting out in the world of vaping or adding to your collection. As always, feel free to contact us with any questions, or check out our FAQ.