EPUFFER Electronic Pipe ( e-Pipe 629 X ) Limited Edition - New 2021 Model

The new E-Pipe 629X 2021 model is now bundled and featuring a Flat LED Cap.
Already famed globally for electronic cigarettes and vaporiser technology, ePuffer have now launched a new electronic pipe that promises to taste as good as it looks.
ePuffer has updated the already popular E-Pipe 629 for the fifth time in order to provide the vape enthusiast with a more intense flavour with even more vapour. Our newest tank is a micro sub-ohm 1.0Ω resistance design and our starter kit comes with even more customizable options. The E-Pipe 629X is a luxury item for the everyday consumer that offers the highest quality vape. Read on to see what this limited-edition vape has to offer.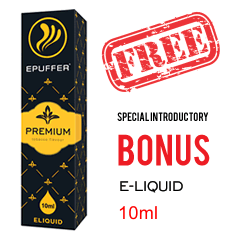 The New E-Pipe 629X 2021 model is Shipping Now!
If you are looking for an e-pipe, then this new model is the one for you!

LIMITED TIME INTRODUCTORY BONUS OFFER!
Order now, and Receive FREE 10ml Bottle of Premium E-Liquid.
Offer available while supplies last.



E-Pipe 629X 2021 Specifications-Starter Kits and Compatible Components
The E-Pipe 629X is projected to be an international best-seller because it is one of, if not the, best of its kind among its competition. This e-pipe comes with a graceful, cherrywood bowl made with an automatic airflow sensor and a stylish black stem mouthpiece. These pieces will come in every starter kit:
● High-grade Nitecore New i2 Dual Slot Universal Battery Charger built with a fuse to avoid short-circuiting--comes with a one-year warranty

● 2 rechargeable high capacity 1200mAh 18350 lithium batteries. New!

● 5 spare atomizers made of U.S Kanthal coil wire and Japanese Organic Cotton wick. It has a ceramic base and a coil resistance of 1.0 ±0.1 Ωohms

● 2 liquimizers - New TPD Ready 2ML liquamizers are made from tempered quartz glass that resist temperatures up to 2200°F and have a 510 connection thread.
All of the above pieces come stylishly enclosed in a mahogany finish MDF wooden box which is ideal for giving as a gift or as an elegant way to store spare parts. You can also choose to purchase a pipe stand made of pear wood that is conveniently foldable.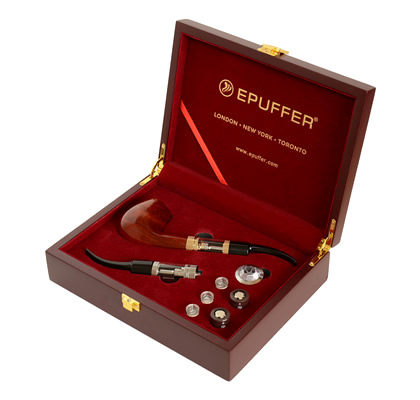 E-Pipe 629X 2021 Limited Edition Starter Kit Content
• Electronic Pipe 629 Real Solid Wood Bowl
• 2pcs. - High Drain IMR-1200mAh Rechargeable Lithium Batteries New!
• 2 Liquamizers TPD Ready 2ML ( Glass Tank ) Silver and Gold Trim Updated!
• 2 Flat LED Bowl Caps, Silver and Gold Trim New!
• 5pcs. Micro Sub-Ohm Atomizers ( Heating Coils )
• Spare Mouthpiece Stem
• Universal Nitecore New i2 Dual Slot Rapid Battery Charger 110/240V
• Wooden Giftbox
• Instruction Manual
Features
Protected Direct Airflow system

Optional Zirconia Crystal Cap ( Stealth Crystal Cap is Sold Separately )

Liquamizer ( Clearomizer ) Tank technology with replaceable micro sub-ohm heating coils

Delivers great vapour production, rich flavour and smooth draw.
629X 2021 Updates and Revisions for a Better E-Pipe
Not only do we have the consumer in mind, but with each new revision, we strive to accommodate every aspect of the vaping experience. We have made the limited edition even better by including a micro sub-ohm atomizer with lower resistance than ever before for even more pleasure with every puff. Our customers asked for more vapour, and we gave it to them! This is, however, not a box mod and won't produce the kind of clouds that will have your neighbours staring. We cater to the advanced vaper/smoker who craves an intense flavour but would rather distance him/herself from the trendy cloud-chasing games which are so popular among the younger generations.
In this revision, we have also included both the gold and silver trim options in one starter kit. While previously, users had to choose between silver and gold, there is one of each included right in the starter kit so that vapers can coordinate their e-pipe with their accessories such as watch bands or cuff-links or color-coordinate their e-liquids (e.g. gold for tobacco, silver for sweets, etc.) Your wardrobe as well as your vaping collection will surely get a fashionable update.
In Conclusion:
The E-Pipe 629X 2021 is the sleekest new model on the market offering the highest-quality vapes for affordable prices. The e-pipe is designed with the proper gentleman in mind and has the class and elegance of any traditional pipe and will satisfy the new and experienced vaper alike.
Please note! The Epipe stand is not included and shown for illustrative purposes only.
Reviews
Video gallery
ePuffer Electronic PIpe 629X 2019
ePuffer Electronic Pipe 629X 2019 updated
ePuffer Electronic Pipe 629 R2 2017
Techical Specs and Features